Cycle of Servant Maids
Ananya Ramanathan, High School Junior, Newtown, PA
December 2018
The Besant Theosophical High School is in Besant Nagar, Chennai. The school provides free K to 12 education for under privileged and typically children from the fisherman community.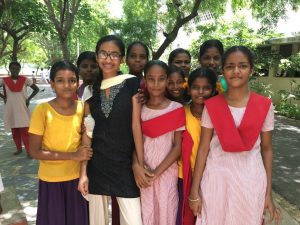 I volunteered at the school in the summer of 2016 as part of my TNF internship program. During the time I spent there, I got the opportunity to bond with kids of different ages. They treated me like one of their friends and had no problem welcoming me into their lives. I grew very close to so many of these children that they began to tell me about their wishes to come to America and visit me. Their comments really made me think about their current financial situation and their futures. I wanted to help them in any way I could.
The girls told me that many of them are likely to become servant maids like their moms. Although there are many facilities missing at this school, the Correspondent of the school emphasized the critical need for providing vocational skills for the girls to "break the cycle of servant maids." Since most students cannot afford higher education, providing them with tailoring skills will be useful especially for the girls, who otherwise end up unemployed or become servant maids. This skill will give them a chance to become more financially independent and the potential to continue learning as they grow up.
My plan is raise $4,000 to purchase the needed sewing and embroidery machines and enable the girls to acquire this vocational skill before they graduate from high school. Please join me in breaking the cycle of servant maids!
Your tax deductible donations can be made at: https://tnfusa.org/donate (choose under projects "Breaking the Cycle of Servant Maids")
Thank you for your generosity!
For more details: ananyar2002@gmail.com