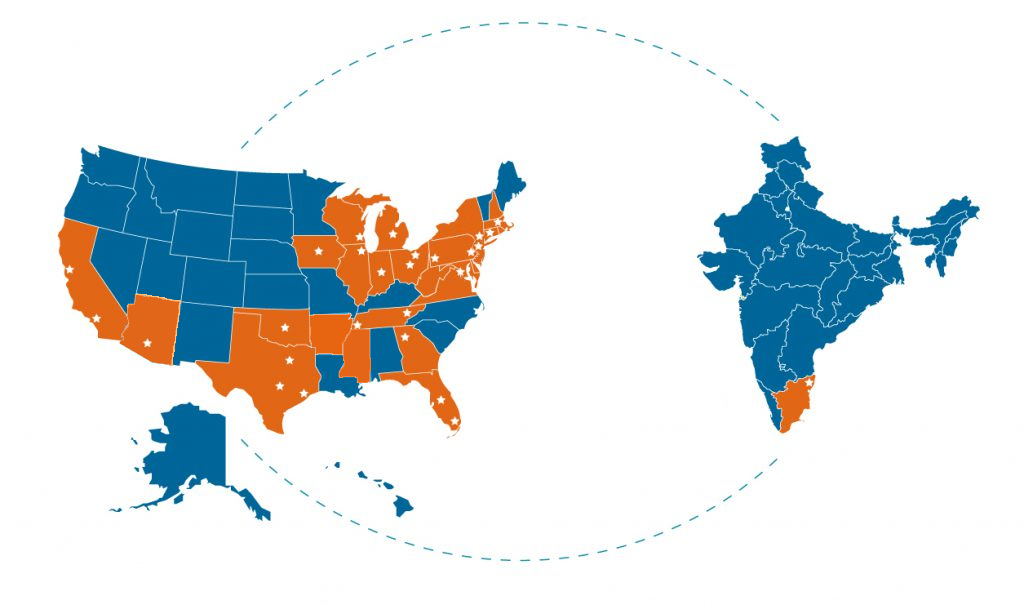 Background
The organization was founded on Thanksgiving Day, November 29, 1974, in Baltimore, Maryland, USA. The founders were Dr. P.G. Periasamy, Dr. R. Palanisamy, Dr. P. Theagarajan, and Dr. P.R, Perumalswami.
TNF was incorporated in Maryland in December 1975, and was given tax-exempt status in April 1976.
Ever since the founding, TNF has functioned to the objectives stated in the constitution. More than 700 projects were sponsored by 1100+ Life Members and Chapters of TNF. These projects have touched excess of 500,000 underprivileged all over Tamil Nadu, including 100,000+ students in government schools through TNF's flagship ABC education initiative, 60,000+ victims of 2015 floods and 20,000+ victims of Cyclone Gaja in 2018.
The birth of the foundation occurred, essentially, at a Thanksgiving Day gathering in Baltimore, Maryland. There was a gathering of members of the Tamil diaspora on that American holiday. During the gathering there was a discussion of how the group could best help to improve the quality of life in our place of birth, Tamil Nadu.
The foundation was formed with founding members Dr. P.G. Periasamy, Dr. G. Palanisamy, Dr. P.R. Perumalswami and Dr. P. Theyagarajan. In December 1975, TNF was incorporated in the state of Maryland. The very first TNF gathering was in 1975, in Bethany Beach, Delaware. The foundation was granted tax exempt status in April 1976.
In 1976, the first annual meeting was held at Physics Hall, University of Maryland in College Park, MD. Twenty three families attended the meeting that centered on establishing a membership drive, fund raising, reducing membership fees and assessing membership quality. The first significant fund drive was to raise funds for the Madras Flood Relief in 1976. The flood of November 29, 1976, caused great loss of life and property in and around Madras. TNF donated a sum of $400.
In 1977, the second annual meeting was held at Hidden Hollow Camp in Belleville, Ohio, and was attended by 43 families. Dr. M. Anandakrishnan, formerly Consular in charge of Science and Technology affairs at the Embassy of India, delivered the key note address. The third annual meeting was held at the University of Michigan, Ann Arbor attended by 35 families. The significant conference announcement at that conference was the starting of the TNF Chapter in 1977.
For this first decade, TNF operated mainly from the United States. During that time, member donations were sent directly to specific projects in local villages. TNF focused on the socio-economic needs of places that were familiar to donors. Many successfully implemented projects included: vocational training for women to help them become self- reliant, revamping run-down schools, providing scholarships to the economically disadvantaged and extending economic support to orphanages.
As the number of projects grew, it became apparent that TNF needed to establish a local board of trustees in order to monitor the projects properly. In 1983, TNF Chennai chapter trustees were nominated and Dr. N. Mahalingam was named the first chairman of the local board of trustees. All trustees worked out of their homes.
1989
TNF Thukkaram Career Guidance Program
In 1989, the TNF Thukkaram Center Guidance Program was created at the College of Engineering, Guindy. Ram Thukkaram, the benefactor who funded the program, felt that a guidance program would help students avoid some of the obstacles Mr. Thukkaram, a graduate of the college, experienced in his career.
Mr. Thukkaram sponsored two career guidance programs. One was at his alma mater, College of Engineering, Guindy. The other career guidance program was near his hometown, the city of Thanjavur, at the Periar Maniammai College of Technology For Women in Vallam, Thanjavur district. By the end of 2013, more than 10,000 students of both colleges had benefited from the programs.
The program at Guindy administered by the Guindy Alumni Association continues to gain momentum today with 900 students attending the program in 2014. The Career Guidance Program at Guindy celebrated its 25th year of continual service in 2014.
1991
TNF Anna University Computer Training Program for Rural School Children
The objective of the program was to popularize the use of computers in rural areas. Dr. M. Anandakrishnan, Vice-Chancellor of Anna University at that time, developed the working model of cooperation between an NGO such as TNF, a technology institution like Anna University, and the education department of the government of Tamil Nadu. The shared vision of computer training for rural children was the catalyst that brought about this cooperation.
The students were provided with 100 hours of practical training in DOS commands, Wordstar, Lotus 123 DbaseIII Plus and graphics through BASIC. Within four years, more than 100 teachers and thousands of rural school children received this training in 22 Government schools in Vellore, Salem and Trichy districts. Dr. V. Sankaranarayanan, Director of the Ramanujan Computer Centre, Anna University, was especially helpful getting his enthusiastic and dedicated team of teachers and student volunteers to help. The project coordinator bringing the program to rural schoolchildren was Mr. P. Chandrasekaran, then Special Consultant to TNF Chennai Chapter. Ram Thukkaram, TNF Center coordinator, funded the project.
This training program helped TNF begin to be recognized as one of the progressive NGO's in Tamil Nadu. The Anna University Computer Training Program for Rural School Children was the inspiration for starting a computer lab at the TNF center, after the first phase of the building was completed. The computer center enabled TNF to convince Indira Gandhi National Open University to establish a Program Study Center to offer low cost MCA and BCA degrees to working adults through evening and weekend programs.
1994
TNF Chemkit Project
There are a number of high schools in Tamil Nadu without any laboratory facilities. The Chemkit is a miniaturized laboratory kit that allows students to perform experiments necessary for their studies. The Chemkit was developed by Professor K. Balasubramaniam of MIT, Anna University-Chrompet. With Dr. Anandakrishnan's enthusiastic support, TNF organized a number of workshops on the Chemkit. Many TNF members supported this project, particularly Mr. Paul Pandian. These kits were distributed to more than 25 schools. This was a very innovative project. In view of TNF's involvement in education enhancement focus, this project deserves to be reignited.
1998
TNF Computer Center
TNF Center opened the computer center in December 1998. Two years earlier in 1996, TNF started training students from Chennai Corporation Schools. A significant percentage of students in those schools were economically disadvantaged. TNF computer Center helped thousands of students learn computer programs at a very low cost.
TNF helped set up computer centers in more than 25 schools, reaching more than 10,000 students in ten districts. Working with many NGOs, TNF provided computers to more than 200 schools. TNF headed many activities to spread computer education throughout Tamil Nadu. More detailed descriptions and information is available at the TNF Center Chennai.
Due to the vast expansion of computer training centers in Chennai, TNF decided to close the Computer Center in 2010.When the center was closed it had 25 computers and four instructors. All software and hardware from the center were donated to the schools with which TNF had involvement. Primary funding for the computer center was provided by Mr. Thukkaram.
1999
TNF Hacin Family Foundation
TNF was associated with the Hacin Family Foundation for more than 10 years. Mr. Janez Hacin an architect and a philanthropist of Geneva, Switzerland, funded several charitable projects in Tamil Nadu. These projects included: The Kovalam self-help group, a free medical camp, the Ponnai school children project, scholarships, the Kuthambakkam toilet project, a rainwater harvesting project in Nagarkoil, the Citizen Development Center Project, the Thulir science project and many more. An $18,000 dollars donation from Hacin Family Foundation, for example, provided two hundred households in the village of Kuthambakkam low-cost sanitary toilets. Mr. Janez Hacin supported more than 25 different projects over period of ten years.
2006
TNF – Eye Camps
TNF has been conducting Eye Camps since 2000. Cataract surgery can help someone who is visually handicapped regain sight. In June 2000, 160 patients were treated at Siluvathur village. More than 2000 were treated at TNF Eye Camps. Arvind Eye Hospital Madurai provided the treatment in most of the camps.
TNF & Ms. Pamela Walsh of Friends of India
Ms. Pamela Walsh is chairperson of Friends of India, a Geneva-based NGO. She came to know of TNF through Mr. Nazeeb Dajani, trustee of the Global Harmony Foundation of Switzerland. Mr. Dajani was a friend of Dr. M. Anandakrishnan. Ms. Walsh is a longtime donor to TNF and a driving force behind many of our projects. When ASC International Language School, owned by Ms. Walsh, was planning to celebrate their silver Jubilee year of 1999, she was looking for a good, charitable project to support.
Ms. Walsh visited many schools in Vellore and sat on the benches of the crowded schools. She realized that the girls could not even do their written schoolwork comfortably. After the Vellore visit, she funded many projects related to infrastructure development in schools. Every year, Ms. Walsh comes to Chennai to visit the projects funded by ASC International. After her ASC International Career, she formed Friends of India. Friends of India raised money for 400 school uniforms for students in Tamil Nadu. TNF worked with Friends of India to identify 400 students in need of the uniforms.
In addition, Friends of India donated money through TNF to Kovalam village to provide PVC water tanks, desilting village temple tanks and for repairing the toilets at Panchayat School and many more important needs.
2000 – 2010
Indira Gandhi National Open University & Tamil Nadu Open University at TNF Center
TNF Chennai trustees decided to approach Indira Gandhi National Open University to qualify the TNF computer center as a Program Study Center for training students in MCA, BCA degree programs offered by the university. This would bring recognition to the center. One of the trustees, Prof. G. Ayyasamy, with the help of Mrs. Soundravalli Kulandaiswamy, then Regional Director of Indira Gandhi National Open University, got approval. For a study center to be approved it must have adequate computers, software, and a program administrator. It also needed an academic counselor who would need to be approved by the headquarters of Indira Gandhi Open University in Delhi. Mr. Chandrasekaran was approved and managed the overall program.
The MCA, BCA and Certificate programs from Indira Gandhi National Open University gave the TNF Computer Center credibility to run its own programs. When Tamil Nadu Open University was started in 2004, one of the directors of Indira Gandhi National Open University joined Tamil Nadu Open University. TNF was now engaged to be their Program Study center also and offered similar courses.
TNF conducted 6-month courses for the B.com, BBA students, and B.A. corporate secretary students. Nearly 6,500 students graduated, at a very low cost at the center. Funding that came about because of these programs helped the operation of the TNF Chennai chapter. It also contributed 10 Lakhs ($25,000) towards the second phase of construction.
2005
Smokeless Kitchens
TNF invited Ms. Walsh to visit Athur in Sholavaram block in Thiruvallur district, where she wanted to establish a computer center. During her stay, she visited Anganwadi day care centers in Tamil Nadu. These day care centers used conventional mud chulas to cook the mid-day meals for the children. These chulas created a lot of unhealthy smoke, which lingered around the children. Concerned over the safety of the children, Ms. Walsh launched the Smokeless Kitchen Project.
Aided by donations from Friends of India, TNF members, and from the government of Tamil Nadu, the program spread. Nammakka Namme Thittam and self-sufficiency schemes also helped. TNF was able to help spread donations from Friends of India to many districts, including Theni, Dindugal, Villupuram, Dharmapuri, Ariyalur, Thirunelveli, and others. As of 2013, the initiative by Ms. Walsh has helped TNF implement more than 12,000 smokeless stoves in Anganwadi Centers in Tamil Nadu.
The government of Tamil Nadu has adopted this project and is committed to providing smoke-free stoves to all day-care centers in Tamil Nadu. Recently, the government of India suggested that all state governments help day care centers to be smoke free. This is tremendous progress.
Tailoring Program
As part of a woman's empowerment program, a tailoring program was started at the TNF Center in 2005. A full-time instructor employed by TNF has trained more than 500 women from economically disadvantaged areas. The training has helped many women get employment in garment shops. Since 2012, sewing machines have been provided to the women.
In March 2012, TNF Chennai received a Vocational Training Provider Certificate from the central government in Delhi. This certificate and registration with the government allows TNF Chennai to provide a government-approved certificate to those who finish the course. This official certificate opens many doors for job opportunities. This tailoring program is scalable in rural areas of Tamil Nadu.
2006
Laia Foundation
TNF started working with the Laia Foundation in 2006. The Laia Foundation is an Indian Charitable Trust dedicated to building a better future for inhabitants of many villages around Vedanthangal, Kancheepuram District. TNF secretary Mr. Chandrasekaran has counseled on many initiatives of the Laia Foundation. Funds from overseas were channeled through TNF to the Laia Foundation. TNF provided help to the Laia Foundation in dealing with many government regulations. This led to the successful implementation of many Laia Foundation projects. Mr. Luis Compte, founder of Laia Foundation, Vedanthangal, Kancheepuram District, Tamil Nadu, is the recipient of the TNF Excellency Award for 2014.
2007
Ponneri library Improvement
Ponneri is a small town in Thiruvallur district north of Chennai. Though Ponneri library had existed for a long time, everything changed in 2007 with the involvement of TNF. Mr. S. Natesan, TNF Chennai Chapter Trustee, and Mr. Chandrasekaran took personal interest in the library. With complete cooperation of Mr. Panick Pandian and government officials, TNF implemented five new programs.
Establishing a computer center primarily used by students and local population for browsing
Computer training during summer holidays
Infrastructure assistance, tables, chairs, shelves, etc.
Book bank system
Soft skill training program to college students in the Ponneri area for motivation and personality development
The sixth program increased committed donors from double digits to triple digits, nearing 300 donors. These local donors provide 1000 or 5000 Rupees to be considered as donors. Ponneri now is one of the most used branch libraries in Tamil Nadu and has transformed the area.
Because of the success of the Ponneri library, Mr. Pandian was promoted to Tiruvottiyur Library which was in dilapidated condition. In the last two years, as a result of funds raised through local charities and the community confidence in Mr. Pandian's abilities, Tiruvottiyur Library is taking shape at the cost of one crore ($170,000).
2007
Anbalayam
Anbalayam, in English, means loving home. Anbalayam, located in the rural town of Sirkali is the home for 55 special-needs children. The home was founded in a rundown rental building by Ms. Meerabai Ekambaram, a local resident with a heart as big as it can be.
There are more than 10 million special-needs children in India. Most of the children were abandoned by their parents in public places like bus stands, railroad stations, and local markets with the hope that somehow their children will be taken care of. When Mrs. Meerabai founded Anbalayam in 1998 she had picked the children wandering around in the bus stand at Sirkali. Anbalayam's children have the typical maladies of special-needs children, mental retardation, cerebral palsy, Downs Syndrome, autism and multiple disabilities. Genetic consanguinity (marrying close relations) is one of the significant causes of offspring that are diagnosed with special-needs. Genetic consanguinity is not un-common, even in highly educated communities in Tamil Nadu.
Dr. Somasundaram, TNF Director who was involved with an orphanage project near Sirkali, was made aware of the plight of children of Anbalayam. He visited Anbalayam in 2006 and to his dismay found that the children starved most of the days. The orphanage was in such a bad condition that when it rained the children had to stand along the wall because the roof leaked badly.
A focused effort by Dr. Somalay in raising funds through Philadelphia Tamil community resulted in a new building of 3,000 square feet in TNF owned land. Tamil Sangam of central Indiana and Dallas-based Sastha Tamil foundation (through "Angel Janani" project) initiated corpus funds for food assistance.
TNF is in the process of implementing a five year plan. In projects like these, any kind of help anyone can provide, however small, is a big plus.
2008
Kalanjiyam Pilot Project Primary Education
The focus of fund raising at the 2008 TNF National Convention was to prevent dropout at the primary school. The TNF USA board, based on funded study, showed that the dropout rate in rural areas was twenty to thirty percent. The funds collected were to be spent on a pilot project to study the problem thoroughly and eventually come with a methodology to make a difference in primary education dropout issue.
For the pilot project TNF USA Board identified a proven organization that had enough experience in primary education in rural villages. It chose Kalanjiyam run by two individuals with a proven record of performance. After a field visit by TNF President Mr. Sami Palanisami, along with TNF Chennai staff, Kalanjiyam was awarded a three-year contract for $60,000 to improve the primary education and reduce the dropout rate on four villages, chosen for their economically disadvantaged situation.
Kalanjiyam worked with local village leaders, government education authority and local school staff. Women from the villages were hired as social workers to promote instant buy-in. They also served as substitute teachers or teacher's assistants. They were responsible for improving the educational environment to include, purchase books and notebooks, basic furniture, enable clean drinking water and toilet facilities, transportation assistance to children, computer training, sports and recreational activities.
The Kalanjiam engagement convinced the TNF board of the need to undertake a similar program of its own in a vastly improved cost effective way. The learning experience was very useful for the successful implementation of TNF ABC Project.
2008
Elathur Coaching Project to Improve Passing Rate in the 10th Standard
A very concerned headmistress, Mrs. Ambika, dismayed at the miserable passing rate of her students provided the primary reason for TNF starting a customized coaching program for the tenth grade students at Elathur government high school in Vellor District, an Adhi Dravida school functioning under Adhi Dravida welfare department. In the year 2006-2007, the passing rate was 28%.
Four months of customized coaching was given in all subjects. Food was provided for the students as the coaching sessions went into late evening. The results were phenomenal. The passing rate jumped to 82% in 2008 compared to 28% in 2007. During the school term 2008-2009 there was an opportunity for failed 10th grade students to reappear for the examination. TNF, with the help of Mrs. Ambika, recruited field staff to bring back the failed students. Almost all the students were working as laborers. A few of the girls were engaged to be married. Some were just idling, but all of them were interested in completing 10th grade standard. However, prior to TNF's involvement, no one in the village had the capacity to motivate them.
TNF gave additional coaching to all the 75 failed students and enabled them to take the board examination. The passing rate for this group was 85%. All of the passed students continued their school education.
In 2009, Mrs. Ambika was transferred and the new administrative staff was not keen on continuing the program. In 2009 the passing rate dropped down to 35%! Mrs. Ambika, alarmed at the number, was able to get Elathur High School back into the program and in 2010; the 10th grade passing rate was 100% for the first time. Thanks to Ms. Kavitha, treasurer of the TNF Foundation, who took the initiative and followed through for successful completion of the program.
2011-2012
Kattupakkam Coaching Class for 10th Standard
Kattupakkam Government High School is the only school for five villages. 242 students are enrolled for grades 6 through 10. TNF, at the request of Kattupakkam village people and school administration, started a similar coaching program. The passing rate for both 2012 and 2013 academic years at Kattupakkam was 100%. The Elathur and Kattupakkam programs were funded by Mrs. Kavitha and Mr. Thukkaram.
Starting in 2013, Elathur and Kattupakkam have become part of second cluster in Vellore District for ABC Project and are now funded by Houston Convention funds and the TNF Chennai chapter.
2011
Soft Skill Training Program
In Tamil Nadu, passing 10th grade is absolutely required to be employable. The future for those who have not passed 10th grade is pretty grim. Mrs. Andal Domodran, former chair of the board of trustees, urged TNF Chennai chapter to initiate a project to improve the 10th grade passing rate through a program to motivate students.
TNF center chapter tried to develop a two-day program for the high schools of Tamil Nadu that would be similar to the career guidance program TNF started at Engineering College, Guindy, Chennai. But the issues for high school students were very different. The high school program had to be affordable, and TNF needed to be able to take the program to schools. Also, TNF needed to convince the heads of the schools that the program would deliver what it promised since the students would be away from regular classes for two days.
At first, TNF was not very successful in developing the program to meet all the requirements. But when a discussion of the training came up at a board of trustees meeting held at project site, Ponneri Library, M.N. Reguraj, Trustee, offered a solution. He is president of Nettur Technical Training Foundation (NTTF), and he offered materials and trainers from the two-day soft skill training that were offered to all the students of NTTF Bangalore.
NTTF Bangalore is the biggest training center in South East Asia. NTTF has 23 Training Institutes throughout India, and annually trains about 8,000 students in various job skills. This training can be 3 months to 3 years. TNF accepted Mr. Reguraj's offer. Under the informal agreement, NTTF provides two trainers and the training material. All the expenses related to training will be paid by TNF, including travel expenses, boarding and lodging as well as expenses at the training locations. The training would be brought to the students in their schools.
The two-day soft-skills program covers a number of specific areas on each day.
On the first day the following subjects are covered.
Knowing the game – personal details, strengths and weaknesses
Analysis of weaknesses – how to convert weakness into strength
Communication
Concentration – listening, reading, understanding
Memory improvement
Presentation skill
Communication game
And in the second day these following subjects are covered,
Thought for the day
Time management
Health and personal hygiene
Civic sense
Confidence building
Memory improving exercise
How to prepare for the examination and overcome fear
Career planning – different courses and job opportunities
Feedback
As of May 2014, TNF has trained 1450 students in 33 schools in 7 districts. Fund availability at TNF center will determine the number schools the training will be offered. TNF has also started the process of "train the trainer program", to eliminate the dependency on NTTF.
2010
First Annual TNF Chennai Chapter Conference
A significant milestone was achieved in 2010. First annual TNF Chennai Chapter conference was conducted under the leadership of Dr. A.M. Swaminathan, Chairman, and was attended by more than 200 guests and representatives from other NGOs. Four speakers from government and four from non-governmental organizations addressed the gathering on the real issues in Tamil Nadu on Education, Women's Empowerment, Health and Hygiene, and Rural development.
The ideas generated were essential in guiding TNF in identifying future-oriented projects that will strengthen the four pillars of TNF. TNF has conducted annual conferences ever since. These conferences elevate the stature of TNF among all other NGOs in Tamil Nadu.
he ABC project provides after school coaching to students lagging behind in class or academic performance. ABC originally stood for Academic Bridge Course. Based on three years of experience in conducting the ABC Project, the project has a new meaning. A stands for achieving grade level proficiency; B stands for building the morale: and C stands for championing higher aspirations. TNF launched the ABC project in eight schools in Sivaganga district. The project has transformed the schools, and the students, for better, in many ways.
2012
ABC Project
Dr. Somasundaram, director of TNF along with Chennai executive director Mrs. ManmathaDevi, visited Kalanjiam project and reviewed the methodology and visited many schools in Sivaganga district. They had extensive discussions with education officials and community leaders in Sivaganga area, TNF Chennai chapter. They also reviewed the special coaching sessions conducted at Elathur and Kattupakkam schools. With input from TNF board USA, Dr.Somasundaram came up with a winner, the ABC Project.
Results show that students who are part of the ABC Project have become academically competent and on par with fellow classmates. Armed with this good information, TNF has launched a second cluster in Vellore, North Arcot district in five schools. The third cluster is slated for Cuddalore.
2013
TNF ART GALLERY
Tamil Nadu foundation, working with Tamil Nadu Arts & Crafts Improvement Association, facilitated the opening of an art gallery for members of TACIA. The gallery is on one of the 2,000-square foot wings of the TNF center. There are ten of these wings, and one was leased to TACIA at a subsidized cost. The art gallery at TNF Center was inaugurated on November 21, 2013.
The idea of this art gallery could be traced back to 2009 when Mr. Thukkaram wanted to visit a public art gallery in Chennai. He had no luck finding one. Then he visited all the retail art galleries in Chennai. There were less than 10. Talking to the owners of retail galleries, he realized there was a need for public art gallery in order to promote art appreciation and create an environment for better career opportunities for the artisans of Tamil Nadu. With more successful artists, a public art gallery could be a reality, besides meeting another socio economic need.
In 2012, Mr. Thukkaram urged Mr. Sanjeevi to start a project to promote art in Chennai. Mr. Sanjeevi made it happen. He developed a plan after talking to many people in the art community. Dr. B.R. Annapillai founder and president of Tacia was very enthusiastic to have the art gallery at TNF center for the artists and for Chennai.
ounded in 1991 TACIA has more than 300 aspiring artists as members. TACIA has conducted Annual exhibitions, artist camps, competitions and seminars in major cities in India. However TACIA does not have a permanent place to exhibit the works of budding new artists.
Dr. Annapillai has said for the last 37 years TACIA has been promoting art in India without any financial assistance. Several of artist members of TACIA have gone on to win state and national awards. He often requests that the general public and companies buy their art works, and support the art community. He hoped someday, someone will acknowledge TACIA's efforts and help launch TACIA to the global arena.
TACIA is the only non-profit organization in Tamil Nadu promoting art.
As of May 2014, eight art exhibitions, including two children's exhibitions, have been held at the gallery. At a typical exhibition, 60 paintings were displayed and more than 500 visitors saw the paintings, which were all for sale.
Click here for ONE PAGE INTRODUCTION ON TNF
TNF Story – At a Glance
Tamil Nadu Foundation is a nonprofit foundation created in 1974 by a group of Americans of Tamil origin who wanted to help people from their native province of Tamil Nadu in India.