Sri Jayendra School, Sankarnagar, TirunelveliI – Digital Classroom
The school believes in providing quality education to rural children of Tirunelveli, regardless of their economic background. The fees charged are nominal, and based on ability to pay, making it affordable for middle and lower middle class families to send their children to the school. The facilities are excellent, and more importantly, carefully selected to be relevant to local needs, and sustainable.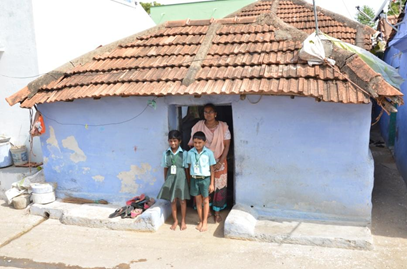 60% of students hail from middle/low income families, and from socially backward homes.
50% of the parents of children in the school have not had any education. 25% are from homes where the parents are educated, and the father alone holds a job.
10% hail from extremely poor homes, where the father is an auto driver, lorry driver, farm laborer, mechanic or a worker in petty jobs

The pictures above are from a village from which around 100 children attend the school. The school strives to provide them with free scholarships to study in the school.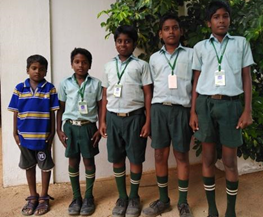 In June 2018, five boys were adopted into the Rehabilitation Home run aligned to the school. Three are from a fishing village called Pasiyavaram near Pulicat Lake and two are from Chennai slums. The three boys from the fishing village were adopted because their mother was killed by their father in a family feud and the father is in jail. The five boys are slowly adapting into their new home and have started to integrate very well into their new English Medium School.
By creating an environment where children who cannot pay work together with other children who can afford to pay, the school attempts to create a more equitable distribution of resources. The other main source of subsidy is from sponsors from India and abroad. Around 300 students are provided free schooling without any fees. Many more are offered partial scholarships based on their ability to pay.
The philosophy of the school is :
Poor children should not have to study in poor conditions.
Everyone deserves to dream, and to achieve their dreams.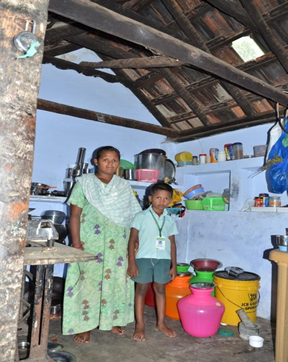 Although the school is run with minimum overheads, the management has left no stone unturned to provide the best infrastructure to its students. It does this by carefully selecting infrastructure that aligns with the mission of the school, and skillsets in the region, whose impact can be measured, and can be made self-sustaining by local support. Donors from India and abroad are critical for initial establishment of these resources which allow the school to expose children to modern methods of learning, and inspire them to think big and aspire high. The children are constantly reminded that they are second to none in terms of potential. This philosophy has proved right as many students who came to the school from very backward homes are today well placed in life, and are pursuing their career in India and abroad.
Digital Classroom
The planned Digital Classroom will be a much needed resource which will benefit the children in an immeasurable way. There are many challenges that rural schools face in India; among these, dearth of quality teachers for each subject or specialty is the most important. Setting up of e-learning and online teaching platforms in rural schools will, to a great extent, help to fill this lacuna, and bridge the digital divide that separates advanced and well-resourced environments from rural societies. The fast changing global economy calls for certain skills to face the much heralded Fourth Industrial revolution, and the traditional classroom based approaches have to be supplemented with a new platform of learning. The students in the school do not have the means to access such resources at their homes. The New Digital lab will help the school to integrate technology into education in a way that has been shown in several other countries to allow children to take ownership of their own education, and for teachers to use the online platform to make teaching more interactive and effective. The digital lab will also serve to improve the English skills of students, since it is a second language to most of our students. This will greatly support language development which is essential to survive in today's world.
Sahana Rajesh, a 14-year-old freshman from Columbus, Ohio, dedicated her Bharatanatyam Arangetram on August 25th, 2018 for this project. Sahana raised $10,000 to bridge the digital divide for the rural students by providing them with a digital classroom consisting of laptops, internet connection, online educational curriculum, and a Digital Interactive Board.
The proposed digital classroom, with facilities to cater to 40 students at a time, would serve 20 classes during the course of the week at 2 hours per class. The two hours that children spend in this classroom will consist of online learning and teaching through sites like Khan Academy, Vedantu, and WizIQ NextGen, with translation to the local language available as needed. The classroom will be equipped with a Digital Interactive Board with 3D Educomp Stem Curriculum Software, 40 Laptops, and an Internet facility with broadband bandwidth of 40 Mbps.