Smokeless Kitchens" across Tamil Nadu's schools: A rural dream come true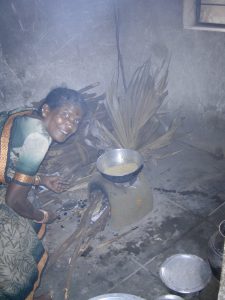 There are 56,000 "Anganwadis" (preschools) located in government school premises all over Tamil Nadu. Impoverished parents entrusted their children, ages 6 months to 5 years, in these centers which also provided free midday meals for the entire school.
In 2007, Pamela Wash, a long-time TNF donor and Chairperson of Geneva based charity organization 'Friends of India' and P. Chandrasekar, Executive Director at TNF Chennai Center, visited the 'Anganwadi' at Athur, a remote village in Sholavaram block of Thiruvallur district. And the intent of their visit was to establish a computer center for the underprivileged children.
As Ms. Wash walked in to the "Anganwadi", the first thing that hit her senses was the smoke lingering in the air and the burning sensation in her eyes. Soon she realized that the children and school staff were spending most of their day in that smoke-filled environment because of the midday meal cooking in "mud chulas" (stoves made with mud) with firewood. She could not imagine the cooks (mostly women) sitting and cooking in smoke-filled kitchens.
"Bare necessities and health first, computers later" was Ms. Wash's immediate reaction. She challenged TNF to brainstorm the possibility of an affordable and replicable smokeless kitchen model! TNF in partnership with local communities and Integrated Child Development Services developed a smokeless kitchen with gas stoves, LPG cylinders, kitchen table tops and ventilation facilities. Ms. Wash funded the pilot project for two "Anganwadi" kitchens in Thiruvallur district to become the first "smokeless kitchens" in Tamil Nadu. Impressed with the pilot, she raised funds in Switzerland for 20 more "Smokeless Kitchens" in Sholavaram block.
The Anganwadi kitchens were modified and provided with gas stoves, LPG cylinders, kitchen table tops, ventilation facilities etc. When LPG cylinders could not be provided due to lack of supplies from oil companies, the Anganwadis were provided with 'Smokeless Stoves' supplied by Envirofit.
The initiative gained traction with donors and media and TNF completed the "Smokeless Stoves" project in Thiruvallur, Theni, Dindugul, Villupuram,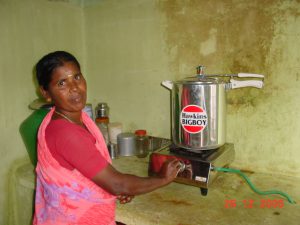 Dharmapuri, Ariyalur, Thirunelveli districts. A major boost came when the Government of Tamil Nadu undertook this project as a statewide welfare project under 'Nammakku Nammae Thittam' (Self Sufficiency Schemes).
More than 12,000 Anganwadis a became smokeless thanks to funding from TNF's donors and all the Anganwadis across the state became smokeless as the Government of Tamil Nadu bought into and implemented TNF's model
Little children and their caretakers, especially the women in the kitchens have been given the gift of an unpolluted environment. No more dry throats, racking coughs and burning eyes
" TNF's relentless endeavor to make all Anganwadis smoke free has created a healthy environment for the children and their caregivers."
– G. Sundaramuthi, IAS, Collector, Thiruvallur District, at ICDS Center function on November 13, 2008 in Thumbakkam village, Ellapuram block